Meet the Team
OWNER / PRESIDENT / CEO
"The Ross Boss"
Harry Ross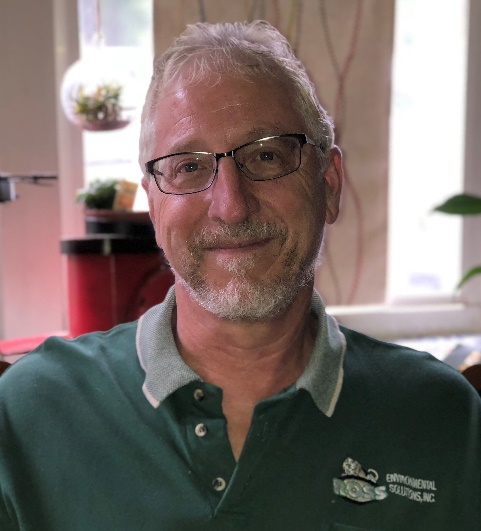 Meet Harry! Harry Ross is the owner and President of Ross Environmental Solutions, Inc. He started the company in February 1992 – so we have been Family-Owned for 30 years! He grew up in Blue Bell, Pennsylvania, graduated from Wissahickon Highschool, Montgomery County Community College and then went on to graduate from the Indiana University of Pennsylvania. After working in the restaurant industry for years and after dealing with the pests that come with the trade, he decided he needed a change of pace and went on to work for two national Pest Control companies. After discovering he had a passion for pest control, he went on to open his very own business and that is what we have today! Since 1987, Harry has been in the industry but still does find joy in helping his customers and technicians solve the issues the have in their homes and out in the field. Although, he is as experienced as they come, Harry can't seem to get used to one type of pest – snakes! As a certified entomologist, Harry can identify insects that are brought to him either by a technician or a curious customer. One of the most rewarding aspects of being the owner & president is that Harry gets to experience the growth of his employees not only on a professional level, but also on a personal level. Just like his wife, Colleen, Harry treats each employee like family. Knowing they are happy and treated well is one of his main goals as an employer. Harry remains honest and trustworthy, always putting his best foot forward for anyone in need – he once diagnosed a Dry Wood Termite issue for a home in Ocean City, NJ that was MISDIAGNOSED for 4 YEARS by other pest control companies!
Harry enjoys many things in his free time from skiing, bicycling, and drawing (his favorite things to draw are old sports stadiums and antique cars)! He loves to play golf when the opportunity strikes and would never pass up the chance to go see a Phillies game.
Harry is also part of the National Pest Association, the National Pest Association of New Jersey and the Williamstown Rotary Club. Up until recently he would also participate in the MS Bike Ride from Trenton, NJ down to Cape May, NJ!
Matthew Myers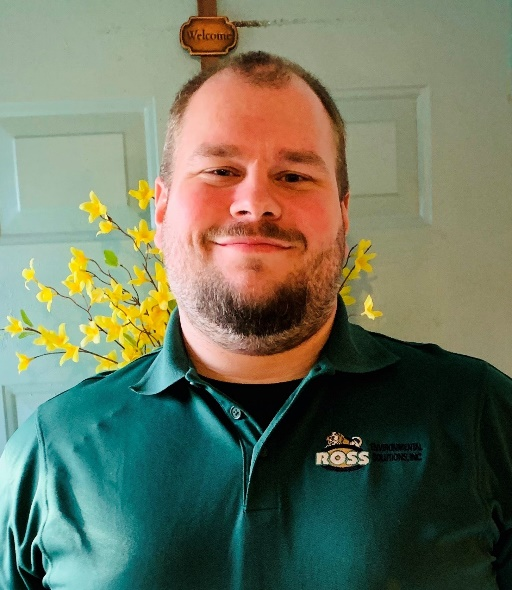 GENERAL MANAGER
Meet Matt! Originally from Franklinville, he graduated from Delsea Regional High School and graduated from The College of New Jersey. Matt began working for us a Route Technician and has worked his way up to General Manager over his 11 years of being with company. His knowledge and experience are essential aspects and qualities he carries with him during each service he conducts since each day brings on new challenges and there is always a new obstacle he gets to overcome. Whether on the road or in the office, everyone can count on Matt when they need him. During his free time, Matt enjoys being with his wife no matter if they are camping, hiking, cooking or sitting together. During the right season, you can also find Matt hunting, searching for the perfect deer. In addition to all his outdoor ventures, Matt will never miss an opportunity to snap some beautiful photos of the scenery around him when he visits a new place.
SERVICE MANAGER
Hugh Carberry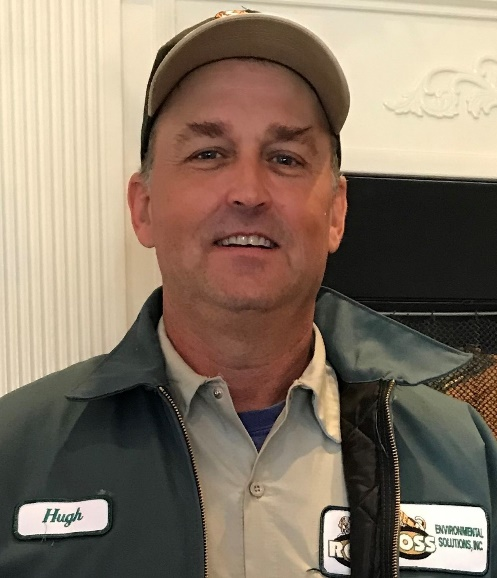 Meet Hugh! Hugh is our trusty Service Manager. Hugh is originally from Mount Laurel, NJ and attended Lenape High School. With his B.S in Marine Science (from Stockton State College) Hugh worked for The Department of U.S Fish & Wildlife as a fisheries biologist for many years. Upon his retirement from his state job, Hugh decided he didn't want to stay home, but rather go out in the field and continue a career he enjoys – so he came to us & has been in our Ross family for 5 years. Hugh really loves being able to help customers out with difficult wildlife situations. He really feels for them whenever there is a Gray Squirrel situation because they can cause a lot of damage to the wires in their attics! Hugh is an avid fisher & hunter, and loves to spend quality time with his wife, children & grandchildren down at their Virginia vacation home. Among his many hobbies, Hugh also loves to make duck decoys.
"HUGH ABSOLUTELY LOVES ABBA"
SALES MANAGER
Louis Vallies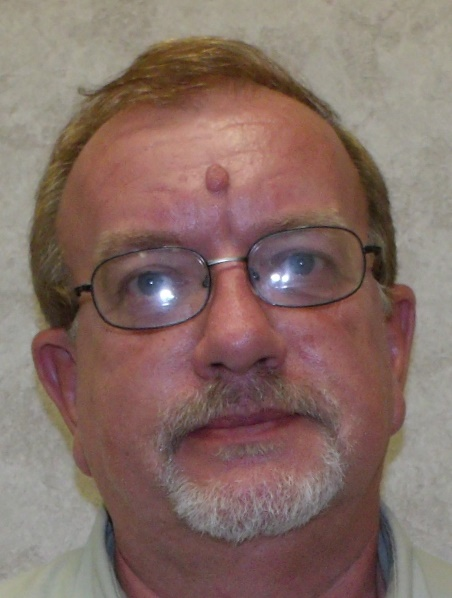 Meet Lou! Lou grew up in Sewell, NJ and attended Ambassador Christian Academy. He graduated from the Philadelphia College of Bible, also known as Cairn University. Lou began with us in March 2010, so he has been here almost 12 years! As the top performing Inspector, Lou made his way up to Sales Manager and helps guide our Inspection team to achieve their goals. Lou genuinely enjoys and takes pride in customer communication and making sure all their needs are not only met but exceeded. Solving their pest issues and putting their worries to ease is one of the best rewards his job has to offer. Although Lou works his tail to the bone, when he gets the spare time, he enjoys the company of his three Siberian huskies and making improvements to his 100 year old home! During the holiday seasons, Lou's home is a main attraction with spectacular decoration displays (with over 30 during Christmas)! In the office, Lou is always cracking the classic "Dad-Jokes" and will often bring in pastries for everyone to enjoy! He also has a passion for singing along to the radio and still exercises his voice from his choir group days. Another thing Lou enjoys is cooking – he is a GREAT cook!
CUSTOMER SERVICE REPRESENTATIVES
Colleen Ross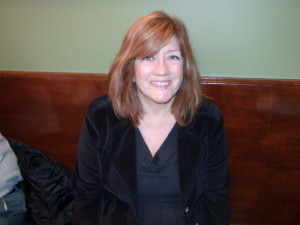 CO-OWNER/ CUSTOMER SERVICE REPRESENTATIVE / DELINQUENT BILLING / PRE-PAYMENT COORDINATOR
Meet Colleen a.k.a The Big Boss, The Big Kahuna! Colleen is South Philadelphia, born & raised. She is the co-owner of Ross Environmental Solutions, Inc. with her husband, Harry Ross. She has been working in the office since 1999 and has done every single job there is to do. Most recently, Colleen oversaw Termite Coordination and was the head of the HR department. With tons of knowledge and experience under her belt, Colleen is a pest PRO. Spending time with her little "Millie-Bug" (Amelia) is the time she treasures the most when she has the time. She treats each and every employee like they are her family and has a HUGE heart. Colleen also loves to catch-up with her two children, Jessica & Zachary, whenever she gets the chance. Colleen is definitely a people person and one of the highlights of her job is getting to speak with the customers and assist them with any issues they may have. Even though she works in the office, Colleen is a fully licensed pest control technician!
Daisha Green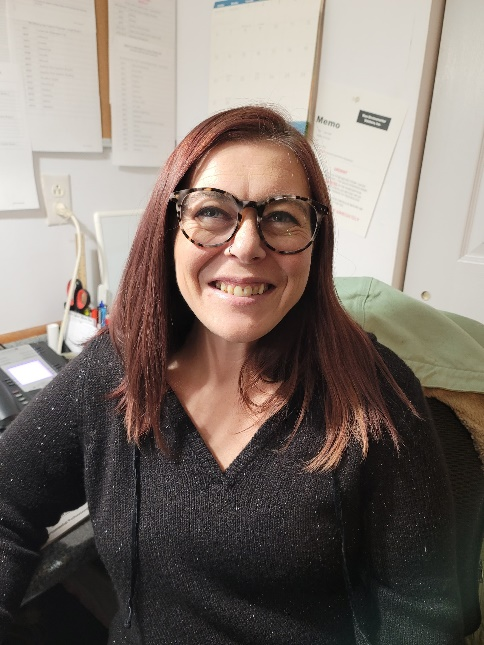 CUSTOMER SERVICE REPRESENTATIVE / WILDLIFE ACCOUNTS MANAGER
Meet Daisha! Daisha is in charge of the Wildlife Accounts at the office. So when you call, you might hear her voice on the other end! Daisha grew up in Parsippany, NJ and attended and graduated from Parsippany High School. She has been with the company since April 2021 and each day, enjoys coming to work. She feels like a part of the family here and there's no other way we would have it! Solving problems for customers and learning new things everyday about the wildlife problems we take care of are two of her favorite aspects of her job! When she is not working, Daisha crochets, reads and researches genealogy for fun. She also enjoys spending time with her family, husband & 3 dogs! Daisha used to live in Alabama and when she was there, not only did she have dogs, but she also had a Donkey named Sam! (Who she misses very, very much).
Amanda Leatherwood
CUSTOMER SERVICE REPRESENTATIVE / COMMERCIAL ACCOUNT COORDINATOR / TERMITE COORDINATOR
Meet Amanda! Amanda is another lovely voice you will hear when you call into our main office. She is the niece of owners Harry & Colleen Ross, as well. She grew up close to the business here in Franklinville, NJ and graduated from Delsea High School. She has worked here and helped out with the business operations ever since she was 12 (we all know how that is in a family owned business)! She has been in every position there is to work within the company from Customer Service to Inspector. She has always been helping people solve their pest problems, whether it be in person or over the phone. She recognizes one of the most challenging aspects of her job on all ends was making sure those with respiratory issues are not exposed and put at risk by any material spraying we have to do. Even though Amanda is the one we call to save a snake or a bird from a glue board, she is not a fan of the centipedes! If you ever need a pop-culture reference, just ask Amanda! She is an ultimate movie buff! She enjoys crocheting and taking care of her little mini-me, Amelia.
Autumn Taylor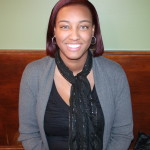 Meet Autumn! Autumn grew up in Sicklerville, New Jersey and has been with Ross Environmental Solutions for 8 years! She graduated from Camden County Community College. Autumn's favorite thing about her job is the laid-back office atmosphere and her co-workers. Despite being in the pest control industry, Autumn has no love for any type of insect. Do not let them get near her desk! Luckily, Autumn has no qualms about asking for pest control assistance from any one of her co-workers. After work and on the weekends she doesn't work, Autumn can be found spending quality time with her son and her father. She loves to play monster trucks and construction vehicles to the fullest extent and fosters her son's imagination with pretend-play. Autumn has a sporty side, supporting her local Philly teams and is quite the Disney fanatic. She has been to Disney more than 10 times in her life! Ask her any Disney theme song or line and she'll know the movie, character and scene!
ROUTE TECHNICIANS
Carl Abraham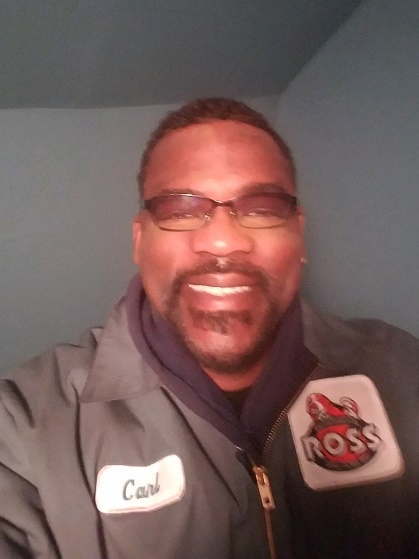 Meet Carl! Carl is one of our Route Technicians, so if you live in Camden County or Gloucester County, NJ you might see him completing a Pest Control Service at your home. Carl has been with Ross Environmental Solutions for 4 months. We welcomed Carl to our Ross family after a referral for his hard work & dedication to his job. Even though his least favorite pest to deal with is Bees, Carl loves to talk with his customers and help them out with whatever pest issues they are dealing with (Bees included)! In his spare time, Carl shows his expressive & artistic side with painting and writing music. Carl is a loving father to a two year old boy & he doesn't look it, but he's 54 years old!
William Coan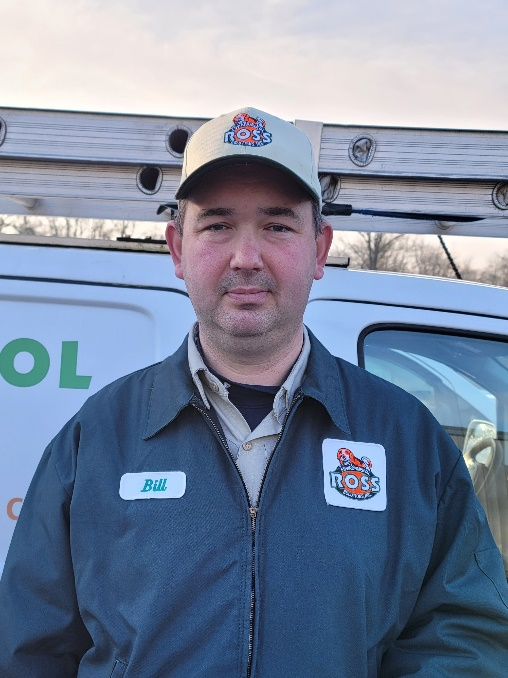 Meet Bill! Bill, one of our experienced Route Technicians, covers parts of Cumberland, Gloucester & Salem Counties. He is a South Jersey native, having graduated from Washington Township High School. Since working for Ross Environment Solutions, he has discovered his favorite aspect of the job is interacting with the customers he encounters on a daily basis. Bill loves to spend time with his kids & his dogs after work and during his spare time. One thing his customers might not have been able to pinpoint about Bill is his age! (SHH! It's a secret) and the fact that he was a firefighter for over 20 years! Definitely a local hero amongst us!
Walter Mangler

Meet Walter! Walt services Burlington County for our company and has been that areas favorite since he started that route. Each of his customers always ask for Walt. He doesn't just treat his customers like customers, over the years, they have become his friends. He can tell you their dogs names, their kids names, birthdays and favorite colors! Walt stays close to home in Burlington County since he grew up in Mount Laurel and graduated from Lenape High School. After High School, he attended Liberty Baptist College in Virginia. With 14 years experience in the industry, he started out at 2 smaller companies before joining Ross Environmental in 2015. In addition to his love for his customers, Walt loves helping solve their pest issues and will help them out with small tasks around their home as well (like taking their bins up the driveway, newspapers to the door, etc.) He pays attention to every detail when he completes a service. He's always on the look out for snakes because if he can, he will avoid them at all costs! But don't worry, he will tell you if you have a snake problem, no doubt. At home, Walt spends time in his back yard, playing with his dog Myra, and will sometime light a fire to sit in front of at night. Walter is definitely a big teddy-bear at heart, and he let's us know that by sitting down in front of the TV watching the Hallmark Channel every night.
Christian Matthews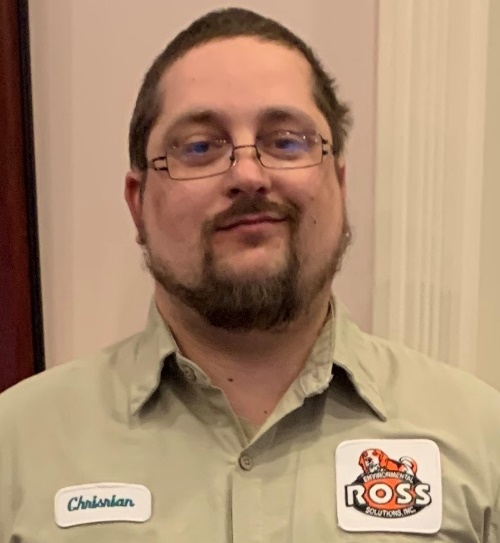 Meet Christian! Christian grew up in Clayton and graduated from Clayton High School. He has been in the pest industry for 7 years and has worked for our company for about 2 years. He services our Cape May County homes. Christian's arch-nemesis of pests are ants and rats because they are pesky! Despite his dislike of those two persistent pests, Christian takes pride in treating for them and helping our customers with their problems when it comes to all their pest needs. You can find Christian bird watching in his spare time and spending time with his wife. A favorite hobby of his is photography and he is quite skilled with photo-editing!
Devin Petite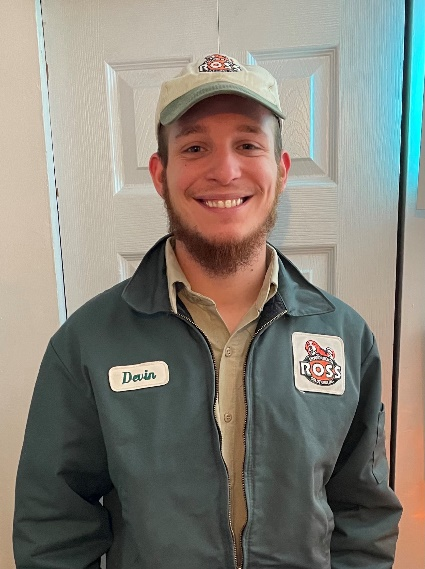 Meet Devin! Devin grew up in Buena, NJ, attended Buena Regional High School and graduated from Atlantic County Community College. He has been with our company for 2 years, having climbed up the ladder from Specialty Technician to Route Technician. If you live in Southern Gloucester County, Western Camden County or Eastern Atlantic County he will be the one who completes your preventative services. He is a people person who cherishes his customers and loves to interact and get to know them better. He doesn't want to get to know roaches though! He would rather get rid of them for you so he won't give them a chance to get on a first name basis! Despite his young age, Devin is happily married and is the dedicated father to 1 young son. He loves spending time with the two of them and takes his son out to morning breakfasts on the weekends. He also enjoys kicking back and watch his favorite sports baseball & football.
Christopher Worstall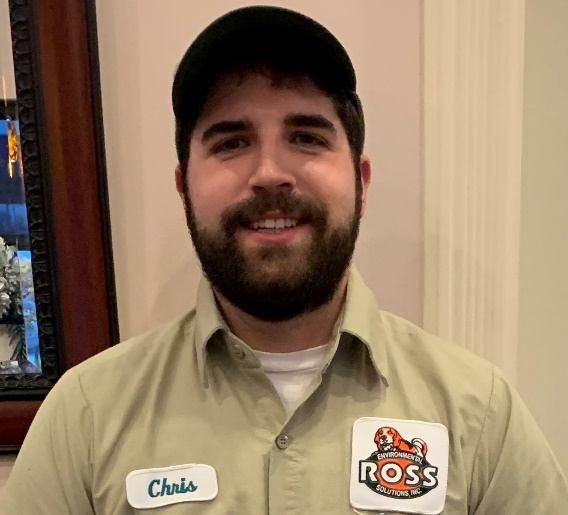 Meet Chris! Chris grew up in the Blackwood/ Voorhees area, graduated from Eastern High School & graduated with a degree in business from Camden County College. Having know the Ross Family through mutual friends, Chris joined with us in 2019. Chris takes pride in his ability to solve and evaluate customer issues effectively and to their satisfaction, however, he might hesitate a little bit when it comes to facing off against a large hornet or wasp nest. He'll get the job done though – Chris' customer come first! In his free time, you can find Chris attending a concert or sitting in the seats at the Wells Fargo Center cheering on his Philadelphia Flyers. As a "Frequent Flyer" he almost never misses a game! Since Chris services Cumberland County & part of Atlantic County, his long drives give him the opportunity to sing at the top of his lungs, which is another opportunity he will never pass up.
SPECIALTY TECHNICIANS
Alex Alago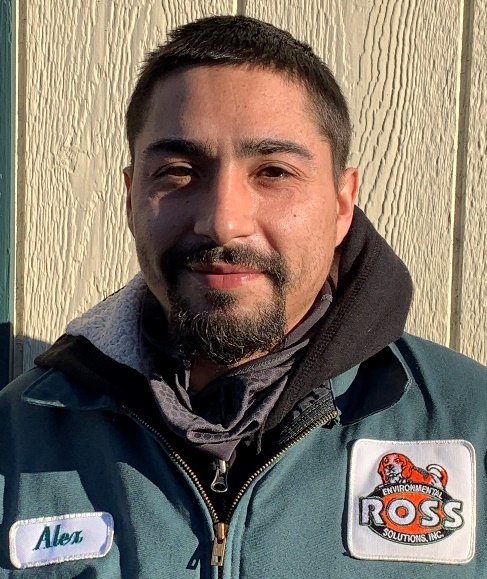 Meet Alex! Alex is one of our Specialty Technicians you might see come to your property for a myriad of services. He can handle Pest Control, Wildlife Control, Handyman, Mold or Termite Services. He grew up in Camden, NJ and attended Woodrow Wilson Highschool as a teenager. Alex has been with Ross Environmental Solutions for a year and his favorite thing about what he does is dealing with wildlife. During his off hours and days off, Alex enjoys spending time with family and friends. Alex is a dedicated father of 2 young boys & you would never know it, but he has over 9 tattoos!
Jay Boyle Jr.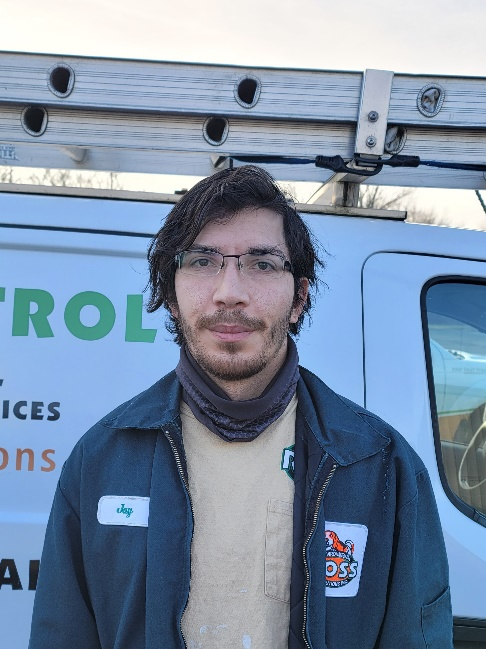 Meet Jay! Jay is one of our Specialty Technicians, so he is an expert in all the services we offer. As a New Jersey native, Jay grew up in the Vineland/ Millville area and attended Millville Senior High School when he was younger. He has been with our company for over 6 months and since he loves working outside, with bugs and animals, this job is the perfect fit for him! In fact, when he was referred to us, he jumped on the opportunity to broaden his skills and learning. Jay's worst pest enemy happens to be yellow jackets, but he always makes sure every last one of them is dealt with. Jay challenges himself by playing chess when he can. He also enjoys reading and gaming when he has the time. Not many know this, but Jay worked in the Security field for 10 years! Jay's father also works with us, his name is Jim.
Jay Boyle Sr.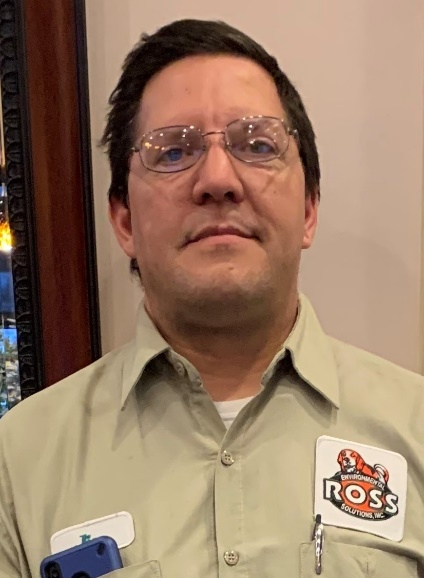 Meet Jim! Jim is Jay's father so this father and son duo might work together on the same job if you're lucky! Jim is one of our Specialty Technicians, so he can complete all the services we offer. His specialty is Handyman and Mold services. Jim is also a New Jersey native, having grown up in Elmer, NJ. He is also an Arthur P. Schalick Highschool alumni. Jim has been working for Ross Environmental for a total of 2 years and 4 months! He did take a recent leave due to a physical injury from one of his life loves, his motorcycle. But Jim is back and ready to face any challenge that comes his way! Jim loves going on weekend trips with his wife and he is also an Assistant Pastor at his beloved Biker church.
Jose Camacho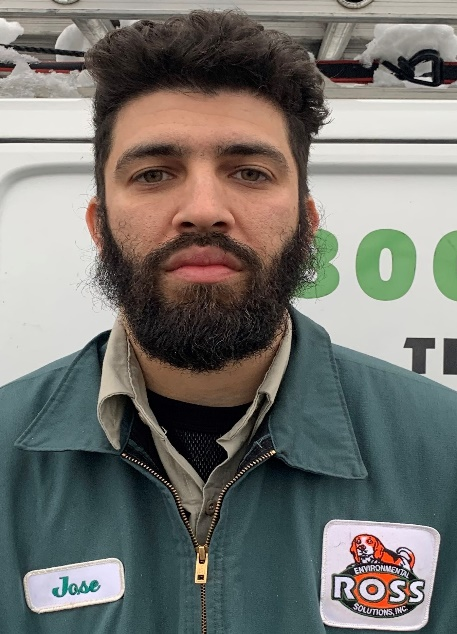 Meet Jose! Jose is one of our Specialty Technicians, and with previous electrician experience, he is able to assist in dehumidifier installation and lend a helping hand with termite services. Jose specializes in all of the services our company provides. Even though Jose is now in South Jersey, he grew up in North Jersey in Newark. He has attended Bloomfield Tech and Linden High and also has an education from Pennco Technical Institute. Referred to us by a former employee, Jose has been working with our company for almost 2 years. When he has leisure time, Jose works out at the gym, plays video games, and binge watches anime shows. He always makes time for his 2 daughters, spending time with friends and other loved ones.
Mark Marino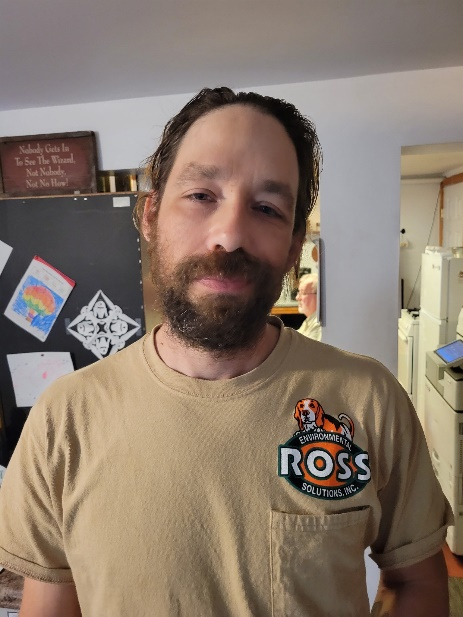 SPECIALTY TECHNICIAN / TERMITE TREATER
Meet Mark! Before serving in the Navy for 4 years, Mark grew up in Woodbury, NJ and graduated from West Deptford High School in 1999. Mark has been an exterminator for 18 years having used to work for Terminix. He can not only treat for general pests, but is trained and certified to treat for termites, as well! He knew he wanted to be an exterminator after reading the book by William Burrough "The Exterminator" when he was in the Navy. Another common trait Mark shares with a majority of the technicians, is he enjoys the different challenges his job brings and the different places he get to travel to on a day to day basis. Mark enjoys his job and every aspect of it except when he happens across maggots – those things may not be insects, but they give him the heebie-jeebies! When Mark isn't on the job, he creates art and has even had Solo showings at galleries around the area. An awesome fact about Mark is that when he was only 5 years old, he met the one and only Perry Cuomo (WOW)!
Robert Still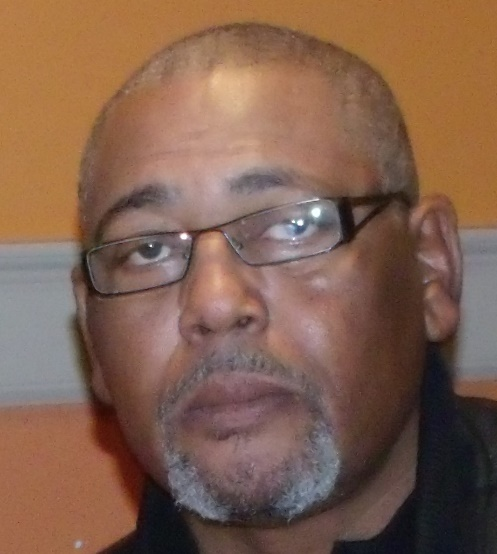 SPECIALTY TECHNICIAN / TERMITE TREATER
Meet Bob! Bob grew up in Lawnside, NJ and attended Camden High School. He has been in the pest industry for about 42 years, originally working for Orkin, Bob decided it was time to join Ross Environmental about 8 years ago. Bob and Harry have known each other through the industry for over 4 decades. When Bob started with us, he was our Termite Specialist. It's very likely Bob is one of the most experience Termite Treaters in the state of New Jersey! Bob enjoys the independence his job gives him on a daily basis and when he gets the chance to, he loves spoiling his youngest daughter as well as his grandchildren. During the right seasons, Bob can be found cheering on the New York sports teams. He also loves to keep things lively whenever he stops in the office! When he was younger, Bob served in the Marine Corps and takes pride in being a veteran every day.
Dean Dickson-Dolson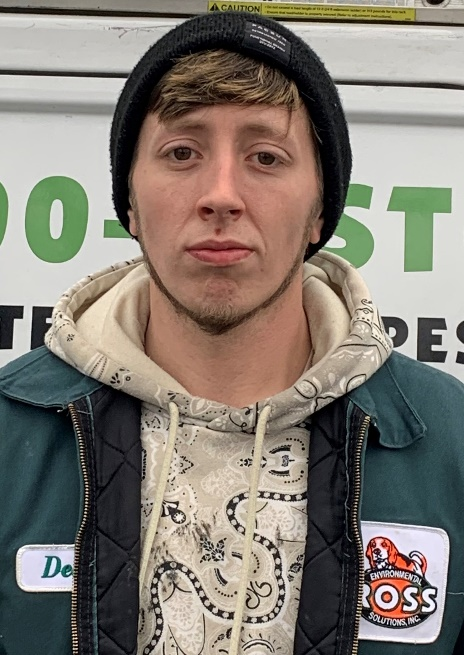 Meet Dean! Dean has known the Ross Family through a family member and has been with the company for 2 years. He enjoys the fact that his job brings new challenges every day and this allows him to travel different places from the top of Burlington County to the bottom on Cape May County. Even though he is an all time animal lover, skunks are one that he prefers to remain cautious of (Who wants to be sprayed, right?). Dean takes his time gaining personal growth and expanding his personal knowledge. As a "Renaissance Man", he was in the military, loves dancing & art and is very skilled with handyman projects. (Definitely a DIYer)!
SALES INSPECTORS
Tia Cody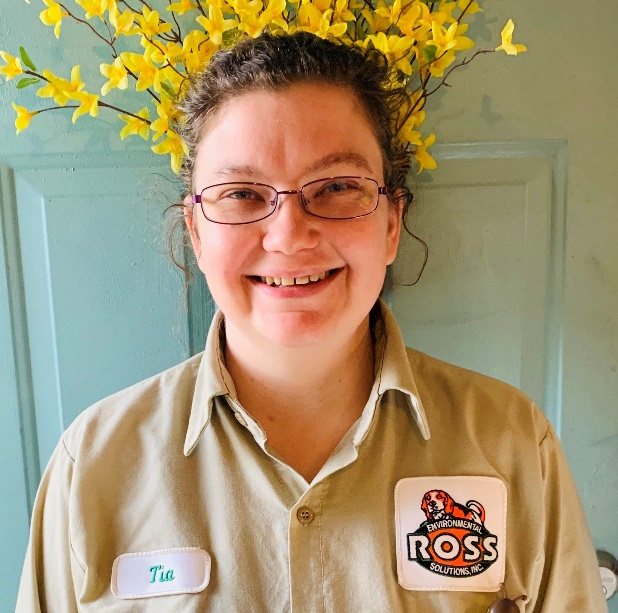 Meet Tia! One of the lovely ladies of Ross Environment Solutions! Tia has been with our company for 8 years so far and she has loved every minute of it! She enjoys solving problems and helping our customers feel more at ease in their Burlington County homes. Growing up in Clayton with an educator for a parent, Tia has picked up reading as one of her all time favorite hobbies. She has 3 wonderful and lively kids who keep her on her toes no matter what. They even have her addicted to listening to Disney soundtracks 24/7 – so if you hear music from "Moana" or "Frozen" when one of our trucks pulls in front of your house, you can bet your money that it's Tia!
RICH GUANCE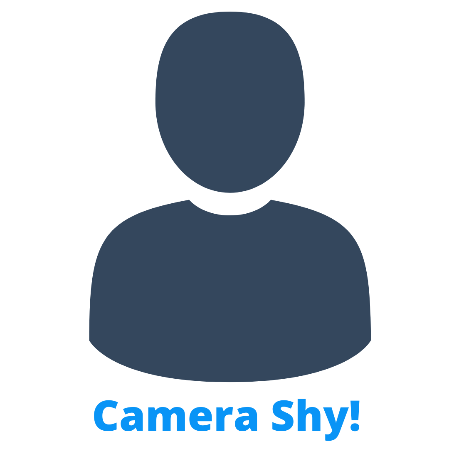 Meet Rich! Our only Boston, Massachusetts native and Somerville High School graduate within the company! Rich has been with Ross Environmental Solutions for 1 year, but he has been in the pest control business for over 30 years. He brings his expertise to the table when completing inspections in Atlantic County and Cape May County! Rich shares one of our companies' common prides, helping our customers and bringing their worries to an ease. There isn't one pest out there that Rich doesn't like. When he has the time, Rich enjoys reading and some of his favorite films include Film Noir & Classic Movies. As a fan of the classics and nostalgia, Rich also has an immense collection of comics comprising of over 14,000 books!
Robert Moore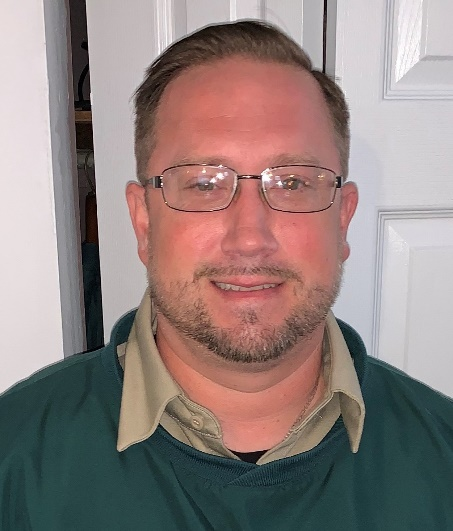 Meet Rob! Ron is New Jersey home grown! He grew up in Millville, graduated from Cedarville High School and graduated from Rowan University. After researching our company and liking what he read, Rob decided to apply for an Inspector position and has been with us for 3 years. Rob is the Inspector for Gloucester County, Western Cumberland and Salem County. He enjoys the independence his job provides him since he can go out and find pest solutions anywhere he goes. The persistence of stinkbugs really got a Rob's nerves, so they are his least favorite pest to deal with! Outside of work, Rob enjoys working out with his wife and playing sports like soccer. In the past, he was an avid soccer player and was even the Assistant Head Coach for Rowan University!
MORALE BOOSTER / COMPANY COURT JESTER
AMELIA LEATHERWOOD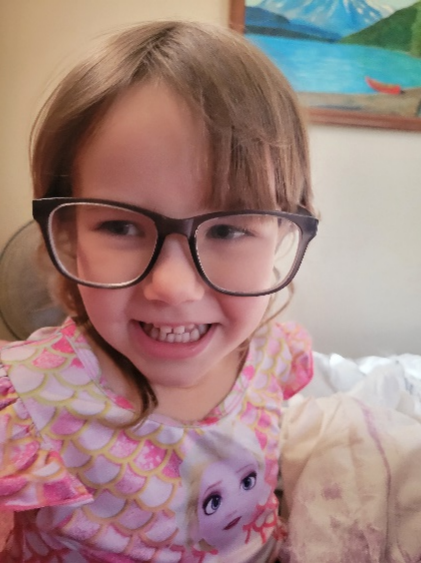 Meet Amelia! The littlest Ross "Employee". Just like her mommy, Amelia has been growing up close to the business. She currently attends Pre School and enjoys learning new things and playing with her classmates. Amelia started coming to work with her mommy when she was only 3 months old! Currently, she is 4 – so she's been with the company her whole life! As a young girl, Amelia does not like bugs of any kind and enjoys the work our company does of exterminating and controlling their populations. Her biggest challenge at the moment is counting past 20 and letting her mommy brush her hair. One of the hobbies Amelia is trying out right now is her "Bynastics" class, but if that doesn't work out she may take up hair dressing after she cut her own hair and gave herself a pretty decent front bang style. Amelia still enjoys the little things in life, like playing with barbies, helping out her friends when they need helping putting the circle in the circle hole and coming up with her own epic-sauce phrases.
MASCOTS / IN HOUSE THERAPY DOGS
Rory "MacDougal" Ross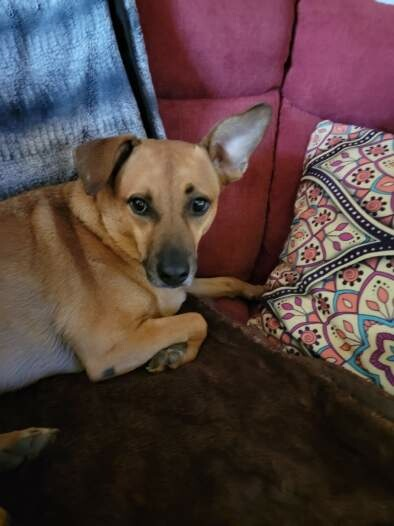 THE ANGELIC ONE
Meet Rory! Rory joined the Ross household on 2018 after coming from Georgia to the Voorhees Animal Shelter. As a very good doggo, he graduated Obedience School in 2019 with flying colors and at the top of his class. He has been coming to work for 4 years with his mommy & daddy, first along with his partner, Bugsy, and now with his partner, Winston. Since Rory loves his mommy & daddy with all his heart, he has had no complaints about coming to work with them everyday (the free snacks and all his complimentary break time help, too)! Despite his love for his job, Rory does find it challenging to focus sometimes when he encounters squirrels… it is super frustrating never being able to actually catch them (one day though… one day). He always find the joy in life and always makes time for the little things though, like sleeping in his bed, sun bathing, chewing on his bones and toys. He also never forgets to play with his little brother Winston! Rory enjoys his days whether he is working or not – he always shows those around him unconditional love and he will always be the Ross' fur baby (he's still spoon-fed and always will be because every dog deserves to be spoiled).
Winston "Churchill" Ross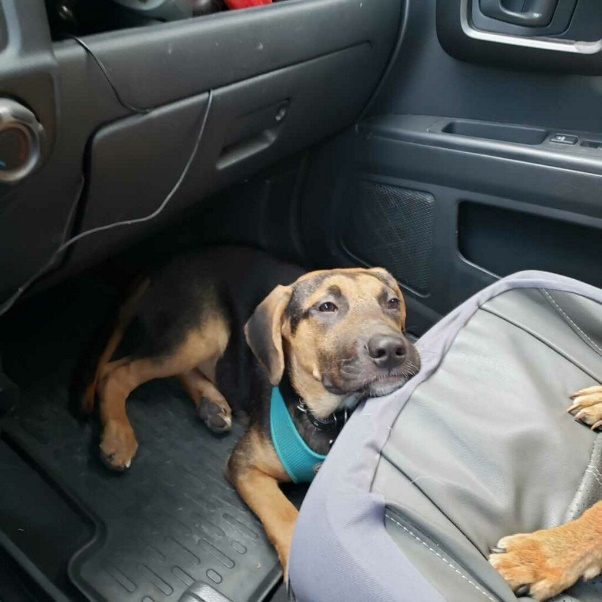 THE MISCHEIVOUS ONE / MERCHANDISE INSPECTOR
Meet Rory! Rory joined the Ross household on 2018 after coming from Georgia to the Voorhees Animal Shelter. As a very good doggo, he graduated Obedience School in 2019 with flying colors and at the top of his class. He has been coming to work for 4 years with his mommy & daddy, first along with his partner, Bugsy, and now with his partner, Winston. Since Rory loves his mommy & daddy with all his heart, he has had no complaints about coming to work with them everyday (the free snacks and all his complimentary break time help, too)! Despite his love for his job, Rory does find it challenging to focus sometimes when he encounters squirrels… it is super frustrating never being able to actually catch them (one day though… one day). He always find the joy in life and always makes time for the little things though, like sleeping in his bed, sun bathing, chewing on his bones and toys. He also never forgets to play with his little brother Winston! Rory enjoys his days whether he is working or not – he always shows those around him unconditional love and he will always be the Ross' fur baby (he's still spoon-fed and always will be because every dog deserves to be spoiled).